<! xxxxxxxxxxx main cater content xxxxxxxxxxxxxxxxx>

.

C A T E R I N G



For Meetings, Business Lunches, Parties, Weddings...
Let us do all the worrying for you.



Just email us at

catering@caffecafe.net
or call us at

(360) 647-0686 / (360) 220-1624

<! xxxxxxxxxxx cater anchor menu> Box Lunches


Platters

Full Catering, Parties, Weddings
---
<! xxxxxxxxxxx cater content>

Box Lunches
Our standard boxed lunch
Includes one gourmet
sandwich, fruit, chips,
and a cookie or scone,
for $10.oo



Please ask about more
options, like salads etc.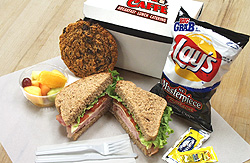 ---




Platters
Gourmet sandwiches
or wraps @ $7.oo each.
$84:dozen. 1/2's or fingers

Selection of turkey, ham
roast beef, veggie & more.

Serve alone or combine
with large salad or soup.



Salads
A big self-serve salad,
with bowls, forks, and
dressings.

Garden : $2 per person.
Gourmet Salad see prices
Treats
Cafe Caffe specialty of
fresh baked muffins,
scones, and treats.

Bakery : $2 per person. with Fruit : $3 per person.
---

Big Events
By three format types :

1. Banquet Dinner by plate
2. Banquet Buffet
3. Hand served hot appys

Cold, or "hot & cold" items.
Call for free consultation,
estimate (360) 220-1624


1. Per Plate
Banquet luncheon or dinner by plate : Poached salmon or cajun-fusion chicken, with one veg or salad, and choice of rice pilaf, duchess potatoes (see photo), or other starch.
$16.oo per person.


Please ask about any other luncheon or dinner items you prefer.



Add a slice of our fresh baked pie or cake, $4.oo per person.


2. Buffet
Cold or a mix of cold and hot items for a tasty and attractive self serve buffet.

Per dozen guests, select :

Cold Items
- Fresh cut veggies - $32
- Fruit assort - $42
- Finger sandwich - $56
- Cheese assort - $42
- Mixed salad - $32
- Special salad - $39
- Our fresh bakery - $28
- Fancy canapées - $82
(see photo on side margins)
- Display pieces - $30-80
- Buns/cracker - cost + $5

more appetizers below...


Hot Items
- Garlic tiger prawns - $55
- Salmon in white wine - $60
- Cajun Fusion Chicken - $68
- Beefy meatballs - $52
- Duchess potatoes - $48
- cooked veggies - $34
- roast / stir-fry veggies - $52

more appetizers below...

3. Appetizers
Hot & cold hors d'œuvres, $25/hr if served by hand.
Backstage or kitchen required on site.
Choose from many hot and cold items:

Per dozen guests, select :

Cold Items $40 unless noted

- Sundried tomato croute
- Thai salad mini rolls
- Caprese bites
- Fancy canapées ($82)


Hot Items

- Bacon-wrapped scallops - $55
- Beefy meatballs
commercial - $28.hand made - $48
- Mini quiches
commercial - $28.hand made - $54
- Stuffed mushroom caps - $46
- Various hot hors d'œuvres
commercial - $32.hand made - $48

---





<! HEY HEY HEY HEY HEY HEY HEY HEY x x x x x add downloadable pdf> <! xxxxxxxxxxxxxxxx end main cater content xxxxxxxxxxxxx>