You get More than Books - Value at the Library
Skip to LEVY CHART
Internet terminals, meeting rooms, children's story time & events, plus unlimited inter-branch use of educational and bestseller books and tens of thousands of videos and DVD's including first run hit movies ! You can skip video rental stores and magazine subscriptions in tough times. It's all at the library !
---
You'll know where your money goes!
Local levy tax pays services you can see, like roads, police, schools, and LIBRARIES ! Unlike federal tax buying big things in other states.

In 2001, our state enacted a "1% cap on property tax raises" that doesn't work like you might imagine. Your property tax can still be valuated sky high like folks in Maple Falls who's tax jumped to 400% of its previous bill.

What does get capped, is the total annual budget of services like the library system.
No matter how many thousands of new people move here, and no matter how much tax money is collected, WCLS is frozen operating on the 2002 budget figure, plus one percent more per year, disregarding growth and inflation. Each year, the library system total budget can only receive 1% more money than the previous year's operating budget, even if a million people moved here.

In 2002 the libraries checked out 1 million items, but in 2008, they checked out 1.4 million items : a 40% increase in service work, with only 6 years of 1% increases in budget. that doesn't add up. With the thousands of new residents and traffic, the library can't keep up by operating on the 2002 sized budget.

Since the cost of that frozen 2002 budget is now being split up between the new larger population, your library rate share dropped from 50 cents per $1000 down to 33 cents per $1000. If the law had just let the rate stay the same, then the tax contributions of these additional people would have paid for those additional new people's usage.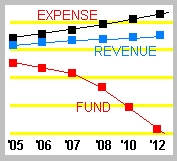 Whatcom Libraries has made major cuts in staff, supplies, hours, bookmobile stops, and has used all surplus in their operating fund, and soon will be unable to pay standard operating expenses.

So we need you to support and vote YES to a levy increase that will correct the funding for libraries.
---
How much will I pay?
You already pay 33.8 cents per $1000 property value.
A yes on proposition 1, will mean an increase of ten cents, to 44 cents per $1000.
| | | | |
| --- | --- | --- | --- |
| Property Value | Current Levy | New Levy | Increase of... |
| $75,000 | $25 | $33 | $8 |
| $150,000 | $50 | $66 | $16 |
| $200,000 | $67 | $88 | $20 |
| $250,000 | $85 | $110 | $25 |
| $300,000 | $101 | $132 | $32 |